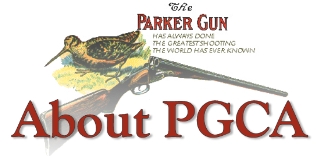 ---
- Our Goals
Promote Parker Shotgun Collecting;

Publish our quarterly membership journal: Parker Pages;

Obtain the Parker records and offer a factory-type Letter to authenticate Parkers;

Provide members with a forum for their Parker research; and

Conduct an Annual Meeting.
- About Us

The Parker Gun Collectors Association (PGCA) is a 501(c)7 nonprofit corporation, established in 1993 in the Commonwealth of Virginia, Ralph Main, Registered Agent, PO Box 6435 , Charlottesville , VA, 22906 . The PGCA is dedicated to the study of the history of the Charles Parker Company and especially of the guns made by the company, and of historic individuals who may have owned or used them. We support exchange of information among students of the Parker Gun, and organize meetings and lectures where this information can be exchanged.
Click here to join PGCA today!
- PGCA Contact Information

PGCA CORRESPONDENCE
Mary Bowes
477 Ocean Avenue
Wells, Maine 04090

MEMBERSHIP APPLICATION and RENEWALS
Mary Bowes
PGCA Membership
477 Ocean Avenue
Wells, Maine 04090, pgcamembership@gmail.com

MEMBERSHIP QUESTIONS
The Parker Gun Collectors Association
Attn: Mary Bowes
477 Ocean Avenue
Wells, Maine 04090
207- 646-2919, pgcamembership@gmail.com

RESEARCH COMMITTEE/RESEARCH LETTERS
Chuck Bishop - Chairman
PO. Box 126502,
Harrisburg, PA 17112, pgcaresearch@verizon.net


PARKER PAGES

PARKER PAGES DELIVERY PROBLEMS/ADDITIONAL COPIES
Jim Hall
344 Parish Road,
Warsaw, VA 22572
804-333-3124, sjhall@haloisp.net

PARKER PAGES EDITORS
Mike & Susan "Sam" Koneski
674 Mitchell Rd
Meshoppen PA 18630
570-965-2176 (H) 570-965-7625 (O)
2parkereditors@gmail.com

PARKER PAGES ADVERTISING MANAGER
Andrew Sacco
361 Trim Street
Kirkwood, NY 13795
asacco2020@gmail.com

ASSOCIATE EDITOR
"Parker Chronicles" & "The Parker Mystique"
Mike Franzen
375 Creek Trace Rd.
Alexandria, KY
1mf@fuse.net

ASSOCIATE EDITOR
The Parker Archaeologist - "Parkers in Pulp"
John N. Davis
PO Box 622
Vienna, GA, 31092
jndavis@sowega.net

ASSOCIATE EDITOR
"Parkers Found"
Josh Loewensteiner
8408 Newton Lane
Charlotte NC 28277
Joshloew@yahoo.com

ASSOCIATE EDITOR


Parker Archaeology


Dave Suponski


266 Clover St
Stratford CT 06614
CTdoubles@aol.com

ASSOCIATE EDITOR


Parkers Afield


W Bruce Day


409 E Santa Fe Trail
Kansas City MO 64145
bday@daylaw.us

ASSOCIATE EDITOR


Parker Paper


Jeff Kuss
466 East Division Rd
Valparaiso, IN 46383
jkuss1@gmail.com

ASSOCIATE EDITOR


Parkers of Historical Significance


George Purtill
2146 Main Street
Glastonbury, CT 06033
george.m.purtill@snet.net

ASSOCIATE EDITOR


Parkers Afield in the Southeast


Mills Morrison
405 Herb River Drive
Savannah, GA 31406
millsmorrison@yahoo.com

ASSOCIATE EDITOR


Parkers Afield in the Southwest


David Boylest
dboyles@republicranches.com


CONTRIBUTING EDITOR


Parker Era Historic Material


Chris (CSL) Lien
2727 McKinney
Boise, ID 82704
csl@spro.net

CONTRIBUTING EDITOR


Parker Era Illustrations


H. Armstrong (Bob) Roberts III
4203 Locust St
Philadelphia, PA 19104
bobr@robertstock.com

- The PGCA Officers & Staff

BOARD OF DIRECTORS

Tom Wooden, Chairman, woodens4@comcast.net (508-359-9292)
John Davis, Asst. Chairman, jndavis@sowega.net
Mike McKinney, Secretary, mikemckinney2@att.net
Mills Morrison, millsmorrison@yahoo.com, (912-484-6121)
Randy Roberts, randy@hsiagency.com
Mike Franzen, 1mf@fuse.net
Brian Hornacek, brianedward69@gmain.com


STAFF

President - Tom Wooden, woodens4@comcast.net
Treasurer - Allan Swanson, ahs482@sover.net
Financial Officer - Mike McKinney, mikemckinney2@att.net
Election Commissioner - Dave Suponski, ctdoubles@aol.com
Membership Chairman - Tom Wooden, woodens4@comcast.net
Membership Coordinator - Mary Bowes, mbowes@maine.rr.com
Webmaster - John Dunkle, johnd@rennlist.com
Forum Moderator - Jeff Kuss, jkuss1@verizon.net
Events Coordinators - Josh Loewensteiner, joshloew79@aol.com & Mike Franzen, 1mf@fuse.net
Parker Pages Editor - Mike & Susan "Sam" Koneski, 2parkereditors@gmail.com
Parker Store - Bill Mullins, bmullins@cbww.com
Raffle Committee - Ed Morgan morganedj@hotmail.com
Silent Auction Committee - Larry Frey lmf_pmt@snet.net & Dean Romig, dsromig@aol.com
PGCA Carolina Activities - Tom Carter, tcic@sccc.tv & David Dwyer, daviddwyer01@gmail.com

THE PARKER GUN FOUNDATION

Jeff Kuss, Director
Louis Parker, Director
George Purtoll, Director
Bill Mullins, Chairman of Board of Trustees


PARKER PAGES
Documents, Disclosures & By-Laws