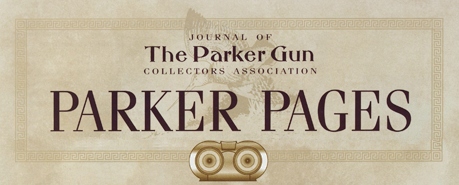 Suggestions for Contributors to Parker Pages
Parker Pages receives and publishes material sent in many forms. Most articles submitted are received as email attachments, and a very few are received by mail as typed manuscripts or written notes accompanied by glossy photos. We continue to solicit and publish material prepared in any form. Typed or hand written material must be arranged and formatted by the editor; if it arrives a very few days before Parker Pages closing dates (15 January, 30 April, 15 July, and 15 October) that material may be more carefully prepared for publication in a later issue. The most rapid preparation can be done with text provided in MS Word format and sent to the editor as attachments.
We do have difficulty with some photos we receive, and offer these guidelines for submitting pictures;
Glossy prints from film are always welcome. As a guide, we can publish the subject of interest in a photo, at about the same size it appears in the original. We may publish color photos on one of the color pages, or convert to black and white and insert it at a fitting spot in text. The 4 x 6 inch glossy photos prepared by most processors make good illustrations of one quarter page or less. Cover photos, or detailed pictures for the back cover, should be sent as 8 x 10 inch prints. Many processors can convert film images to digital form as the photos are developed, and put the photos on a CD or zip drive as an alternative to a second set of prints. Mailing these electronic storage devices to Parker Pages gives us maximum flexibility in publishing the pictures as long as the pictures were originally taken with a good camera and not an earlier cell phone.
Parker Pages encounters the most difficulty in publishing digital pictures that are compressed for emailing or storage. These pictures appear sharp when viewed on a screen, but do not produce sharp prints on paper. The sharpest digital pictures are transferred from the camera\92s 'flash card' to the computer. To ensure you are able to take the highest quality pictures (most pixels, highest resolution) there is a \93settings\94 mode in your digital camera that will allow you to set it to the largest image format. Some storage and editing programs \91compress\92 as part of the editing process, also some phone lines and other connections are unable to handle uncompressed pictures. I can\92t emphasize strongly enough to please use a good digital camera and do not rely on your early cell phone to take pictures suitable for publication\85 it probably will not unless the phone is about 2016 or later manufacture.
Please do not send text documents with embedded graphics or pictures as these will have been compressed to fit in the document and are much too small for publication. The publisher requires 300 pixels per inch to print pictures of comparable quality to those printed from film. As a guide, the block displayed when you select a picture from desktop with Microsoft Picture Manager shows \93Dimensions\94 on the top line. These dimensions must be 1200 X 1800 or greater to produce sharpness approximating that of a 4 x 6 inch glossy print. The dimensions must exceed these numbers if a small section of the photo is to be enlarged. Large format digital cameras, such as the Nikon D70, as one example, collect pictures at dimensions of 2000 x 3000; individuals can be enlarged from groups, and grade can be recognized from a photo of a person holding a Parker with these dimensions. For example, HP \93Photosmart\94 scanners are adjustable to scan at dimensions exceeding 300 pixels per inch. Our experience indicates 600 pixels per inch, or more, may be necessary in order to capture detail of old Parker Catalogs or documents. Please, when preparing to send pictures by e-mail, right click on the picture and select \91rename'. Please include your name, the title of your article or the serial number of the gun when renaming the picture so that the pictures can be more easily identified when the editor searches his \91download\92 file for your pictures.
The Parker Pages editor may be able to assist contributors with photographing guns or other Parker related items and he has size limited scanning capability for printed items or glossy prints. Contact the editor if you need photographic or scanning support to prepare an article. We can also arrange photography at PGCA events.
Don't get Parker Pages? Click here to join PGCA today!
---