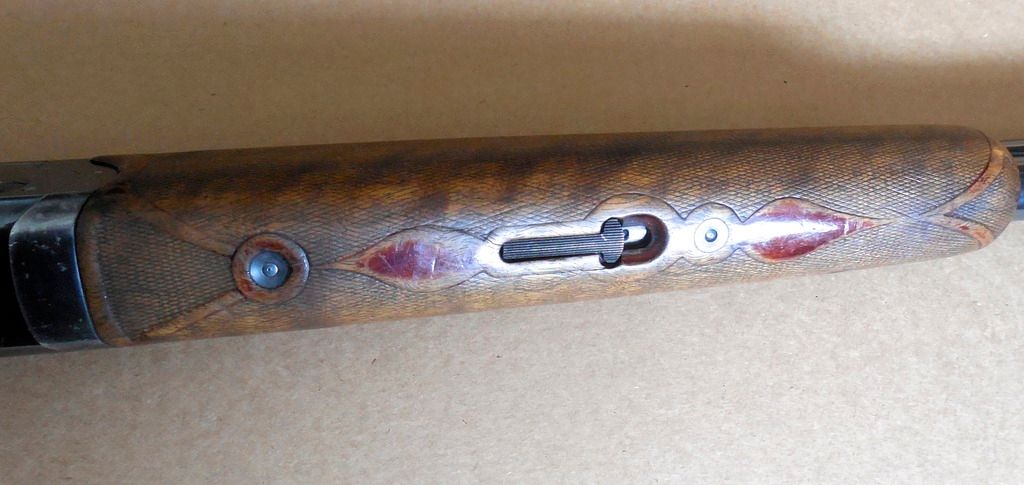 The boys and I returned from the Vegas Gun Show last month with this old gun in our take home pile. The nice old Gentleman that sold the gun to us stated that the gun came out of the BEVERLY HILLS area and the MUGU GUN CUB. The old fellow was associating the gun with the name Alex Kerr. Funny thing about this 32 Remington is that it does not have a dog on the side of the gun, also the gun is marked a TC Model and has an original (much used} hard Remington Butt Platt??. No recoil pad on a "modeled target gun"???. The stock is of the highest quality and highly checkered. Stock wood also wraps around the end of the trigger guard.The For-end is highly checkered and longer and shaped different than all other 32 For-ends that we have seen. Wood is original to the gun. Barrels are 30 In., and choked full. Chokes are short and quick. Gun shoots behind the beed and not high. I find this unusual on a dedicated target gun.
Not very much written information or books on 32 Remington's
Maybe some one out their in Parker Land can give us some ideas or information about this gun. This Model 32 Remington and the Parker were cousins at the time of this old Remington's manufacture.
Bottom gun is a Model 32 Remington Skeet gun Serial # 4458 (Note the dog on the side) and no dog on the Model TC gun.