PGCA Raffle Gun
Tickets are on sale for thie 2015 PGCA Raffle Gun! Here are a few pictures... For more information, please CLICK HERE
PGCA Logo Shirts and Caps
The PGCA has shirts and hats, all carrying the PGCA logo.
* Blue Denim shirts in both long or short sleeve

* Polo shirts in assorted colors

( Click photo to enlarge )

all shirts are:

SM - XL $40

2XL $42

3XL $44

4XL $46
* Tee shirts in assorted colors - $20

Tee shirts have pockets & official PGCA logo.

* Ball caps in several styles and colors are available - $20

( Click photo to enlarge )

All ball caps have the multi-colored PGCA logo.

Sew on patches for $5.00 each.
All prices listed do NOT include shipping and handling charges.
Payments are made directly to the supplier and items are shipped directly to you.
Items can be ordered by contacting the supplier at:
Spin Wheel Fashions 2522 Littlestown Pike Westminster, Maryland 21158

Phone: (410) 346-7255
Full set of Parker Pages Back Issues
The total price is computed @ $6.00 an issue, all back issues are currently available. From 1993 through 2003 there were six issues per year at 6.00 per issue which equals $360.00. From 2004 to the present there are four issues per year which equals $24.00 per year.
The sales price is computed as stated above plus the actual shipping costs.
Contact board member James (Jimmy) Hall.

Jim Hall, 344 Parish Road,

Warsaw, VA 22572

804-333-3124, sjhall@haloisp.net
Research Letter
The PGCA Research Letter program is available to all owners and collectors through mail inquiry. We have completed indexing for all serial numbers in the existing Parker records. The cost for each search will be $40 for PGCA members and $100 for non members. An individual check, payable to PGCA, needs to be included for each gun to be researched. The check will be returned if no record is available for the specified gun. It will take about 30 days to process a request, and the reply will be in letter format.

The research records are copies of the original Parker/Remington order books, stock books, and IBM cards. Some are in poor condition, and all are hand written. The Parker records contain many abbreviations and ditto marks. The grade of the gun is not listed in the order book. The price and barrel steel are used to determine grade from the entry. Ejector equipped guns are identified by an extra charge.
The research will include a review of both the order and stock books, and the IBM cards for Remington guns. The Research Committee will report on the gauge, grade, barrel length, stock configuration, butt, triggers, weight, stock dimensions and chokes noted in the record. Additional information will be reported when it is recorded on special orders. The researcher will omit information that cannot be clearly read. Copies of the stock and order book entries will not be included with the letter report. The Research Committee will sign the letter, and PGCA will retain a copy.
The Research Committee will only accept written requests for research letters. A request form is available above, or the request may be made by letter, specifying the serial number of the Parker gun to be searched.
Original Parker Worker Order Tags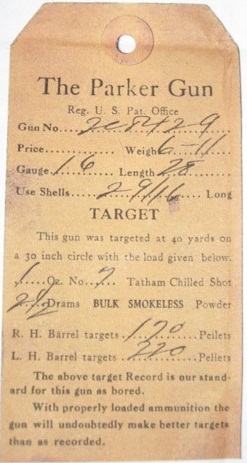 Work Order Tags -
A number of original Parker Bros. work order tags were found in the old Parker Bros. office building in Meriden CT by a PGCA committee. The Original Parker Bros.'s work order tags will be made available by contacting:
PGCA Research Committee

P. O. Box 126502

Harrisburg, PA 17112

Each request should be accompanied by:

PGCA

m

e

mb

er

s

w

ho

ar

e

t

h

e a

c

t

u

a

l

ow

n

er

of

t

h

e g

un

t

o

which t

h

e tag

appli

e

s

(

if s

u

c

h

tag

s ex

i

st) .

A

ph

o

t

o o

f

th

e

g

un,

making sure the

se

r

i

a

l numb

er is

v

i

sib

l

e
These tags are available to PGCA members ONLY and the cost for each tag is as follows:
Trojan to GH grade - $100.00

DH to BH grade - $200.00

AH and above - $300.00
"Click here" to view a complete list of available Parker Bros. Work Order Tags.