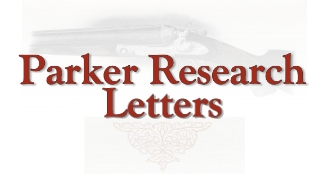 ---
Serial Number Search - Does PGCA have records for your gun? Clicking here will allow you to check a Parker serial number before sending in a Research Letter request.
---
Research Letter - The PGCA Research Letter program is available to all owners and collectors through mail inquiry. We have completed indexing for all serial numbers in the existing Parker records. The cost for each search will be $40 for PGCA members and $100 for non members. An individual check, payable to PGCA, needs to be included for each gun to be researched. The check will be returned if no record is available for the specified gun. It will take about 30 days to process a request, and the reply will be in letter format.

The research records are copies of the original Parker/Remington order books, stock books, and IBM cards. Some are in poor condition, and all are hand written. The Parker records contain many abbreviations and ditto marks. The grade of the gun is not listed in the order book. The price and barrel steel are used to determine grade from the entry. Ejector equipped guns are identified by an extra charge.
The research will include a review of both the order and stock books, and the IBM cards for Remington guns. The Research Committee will report on the gauge, grade, barrel length, stock configuration, butt, triggers, weight, stock dimensions and chokes noted in the record. Additional information will be reported when it is recorded on special orders. The researcher will omit information that cannot be clearly read. Copies of the stock and order book entries will not be included with the letter report. The Research Committee will sign the letter, and PGCA will retain a copy.
The Research Committee will only accept written requests for research letters. A request form is available above, or the request may be made by letter, specifying the serial number of the Parker gun to be searched.
If you are interested in the processes behind providing a research letter, that information can be seen by clicking here.
---
Parker Original Work Order Tags - A number of original Parker Bros. work order tags were found in the old Parker Bros. office building in Meriden CT by a PGCA committee. The Original Parker Bros.'s work order tags will be made available by contacting:
PGCA Research Committee

P. O. Box 126502

Harrisburg, PA 17112
PGCA members who are the actual owner of the gun to which the tag applies (if such tags exist) . A photo of the gun, making sure the serial number is visible, should accompany each request. These tags are available to PGCA members ONLY and the cost for each tag is as follows:
Trojan to GH grade - $100.00

DH to BH grade - $200.00

AH and above - $300.00
"Click here" to view a complete list of available Parker Bros. Work Order Tags.
·
·